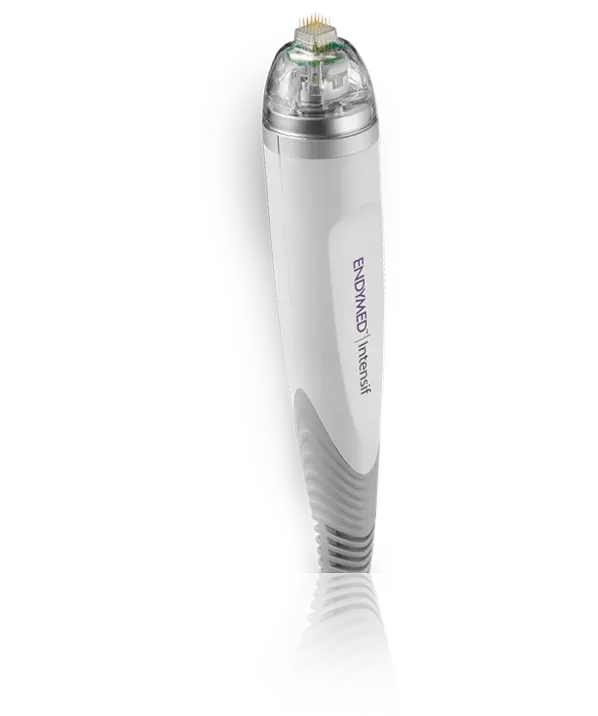 The Intensif RF microneedling handpiece has been clinically proven to provide a revolutionary collagen remodeling solution for acne scars, pockmarks, deep wrinkles and stretch marks.  It works by applying an array of gold-plated, tapered micro-diameter needles deep into the skin to precisely deliver radiofrequency energy.  Since radiofrequency technology targets water instead of melanin, Intensif provides a safe & efficient option for fractional skin remodeling in people of all skin types — including those with darker skin, lighter/more sensitive skin, and even tanned skin in the summer months.
Intensif provides the only mechanized, shock-free needle insertion that physicians can completely control, including needle depth, allowing for 5 times deeper treatments than fractional lasers and 3 times faster treatments than other needle technologies available today.  While older fractional remodeling technologies left scarring, redness, risk of hyperpigmentation, Intensif offers a fresh look at microneedling, targeting deeper layers of the skin (up to 3.5 mm) with little to no epidermal damage, deliver powerful, fractionated energy.
Blue Ocean Dermatolgoy offers the EndyMed 3DEEP® RF technology, the safest and most effective technology available today for neocollagenesis,  skin remodeling, as well as skin tightening and body contouring.  3DEEP tightens and firms the skin by stimulating your body's collagen renewal process, heating deep into the skin to provide better, more effective results without the risk of side effects and need for external cooling.
No external cooling
No pain
Minimal redness post-procedure / minimal downtime
No bleeding
No hyperpigmentation
No scarring